RNLA Pennsylvania Happy Hour
Reception Thanking Attorneys who Volunteered in 2022 

January 24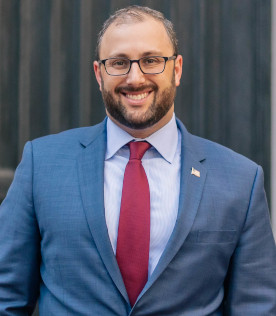 featuring
Philadelphia City Commissioner Seth Bluestein
& City Councilman David Oh
 - RSVP Below -

Join RNLA's Pennsylvania Chapter for a cocktail reception in Philadelphia. RNLA would like to show our appreciation to all lawyers who volunteered their time and expertise in support of Republican candidates during the 2022 election cycle. We are truly thankful for your hard work and dedication to the election integrity cause.
Tuesday, January 24
6:00pm ET
The Ritz Carlton (Aqimero Bar)
10 Ave Of The Arts, Philadelphia, PA 19102

 - Drinks will be provided. -
This reception is also a great opportunity to network with influential attorneys and local elected officials. Councilman David Oh is a former Philadelphia Assistant District Attorney, now serving his third term to the City Council At-Large. Commissioner Seth Bluestein serves as the Republican Member on the Philadelphia Board of Elections in charge of election operations and voter registration for the city.
Click Here to Become an RNLA Member
- - - 
SPEAKER BIOS

David Oh began his legal career while still in law school by starting a volunteer, free legal aid program. For this and other works, David received a Human Rights Award from the Philadelphia Commission on Human Relations. After graduating from law school, he worked as a Philadelphia Assistant District Attorney. In 1988, David resigned to enlist in the U.S. Army. Upon returning to Philadelphia, David reopened his solo law practice in Southwest Philadelphia and organized Governor Tom Ridge's trade mission to South Korea. 

Thanks to very broad and diverse support from voters across the city, David was elected to City Council At-Large in 2012 and re-elected to his third term in 2020. David was the first Asian-American elected to political office in Philadelphia. 

- 
Seth Bluestein has served as City Commissioner – one of three members of the Board of Elections in charge of election operations and voter registration for the City of Philadelphia – since February 2022. Prior to serving as Commissioner, Seth was Chief Deputy Commissioner for former City Commissioner Al Schmidt. From 2018 through 2021, Seth also served as the department's Chief Integrity Officer.

Seth has spent the past ten years serving Philadelphia voters, with a focus on improving the voter experience. He has overseen election integrity investigations and quality control audits for the department. 
- - - 
This event is off the record and closed to the press.
By attending this event, you agree not to audio or video record the speakers or anyone at this event at any time and not to share any portion of their remarks on social media or by any other mechanism. 
The RNLA seeks to promote open, fair and honest elections at all levels of American society in a non-discriminatory manner and to provide access to the polls to all qualified and eligible voters.
This event is not a fundraiser. RNLA provides opportunities for its members to meet Republican leaders.
Private Event. RNLA has the right to revoke any registration at any time for any reason including, but not limited to, any security, disruption, and/or event size capacity issue.
WHEN
January 24, 2023 at 6:00pm - 8pm